Please follow the download link provided in your i-TRiLOGI License Card to go to triplc.com website to download the installation guide.
We recommend that you install the i-TRiLOGI software in the default installation location as follow:
    C:\TRiLOGI
The setup program will install two version of i-TRiLOGI:
1. Version 6.x – An integer version of i-TRiLOGI only for Nano-10, FMD88-10 and FMD1616-10.
2. Version 7.x – A floating point version of i-TRiLOGI for Wx100, Fx2424, Fx1616-BA and any SmartTILE-Fx based custom PLCs.
The two programs versions are stored in the subfolder TL6x and TL7x within the base TRiLOGI folder.
To start up i-TRiLOGI after installation, click the "Start" menu button in Windows, scroll to the i-TRiLOGI folder icon to select the program version you wish to run, as shown below: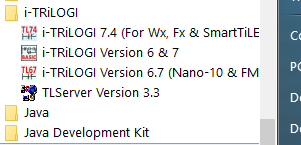 Alternatively,  you can open the C:\TRiLOGI folder and run the "TL67Launcher.exe" program.  The launcher will present you with a menu to select the program version you want to run (depending on your PLC version).
Alternatively, you can open C:\TRiLOGI\TL7x folder and run the TL7x.exe file to start up i-TRiLOGI version 7.x directly.
Likewise, you can also open C:\TRiLOGI\TL6x folder and run the TL6x.exe file to start up i-TRiLOGI version 6.x directly.
What Is The Difference between Version 6.x and 7.x ?
Both version 6.x and 7.x have identical user interface and are often interchangeable. The main difference is that version 7.x supports many additional commands, especially the commands that have to deal with floating point variables and operations. In the case of Version >= 7.4 many additional commands have been added to support the new HMI and WiFi found only on the Wx100 PLC. Hence if you need to use these new capability you must use i-TRiLOGI 7.4 or later to program the Wx100 PLCs.
i-TRiLOGI Version 7.5 – From firmware version >= F94.2, Wx100 also supports new commands to enable it to publish and/or subscribe MQTT messages to any MQTT broker. In addition, two new functions are added to simplify JSON message decoding and encoding for applications that require you to encode or decode MQTT messages in JSON format. You will need to install new i-TRiLOGI version 7.5 or later to compile program that contains these MQTT and JSON related commands. ( Download MQTT Quick Start Guide).
Note: Version 6.x only support integer math operation. If you intend to write programs that will run unmodified on both Fx and FMD PLC then you should only use Version 6.x since it is a subset of Version 7.x. You can even transfer any program written using Version 6.x into any PLCs that do support version 7.x.  Likewise, if you write a PLC program using version 7.x, but did not use any features that are not available in Version 6, then it is possible to transfer the same program to the lower end of the PLCs as well.
---