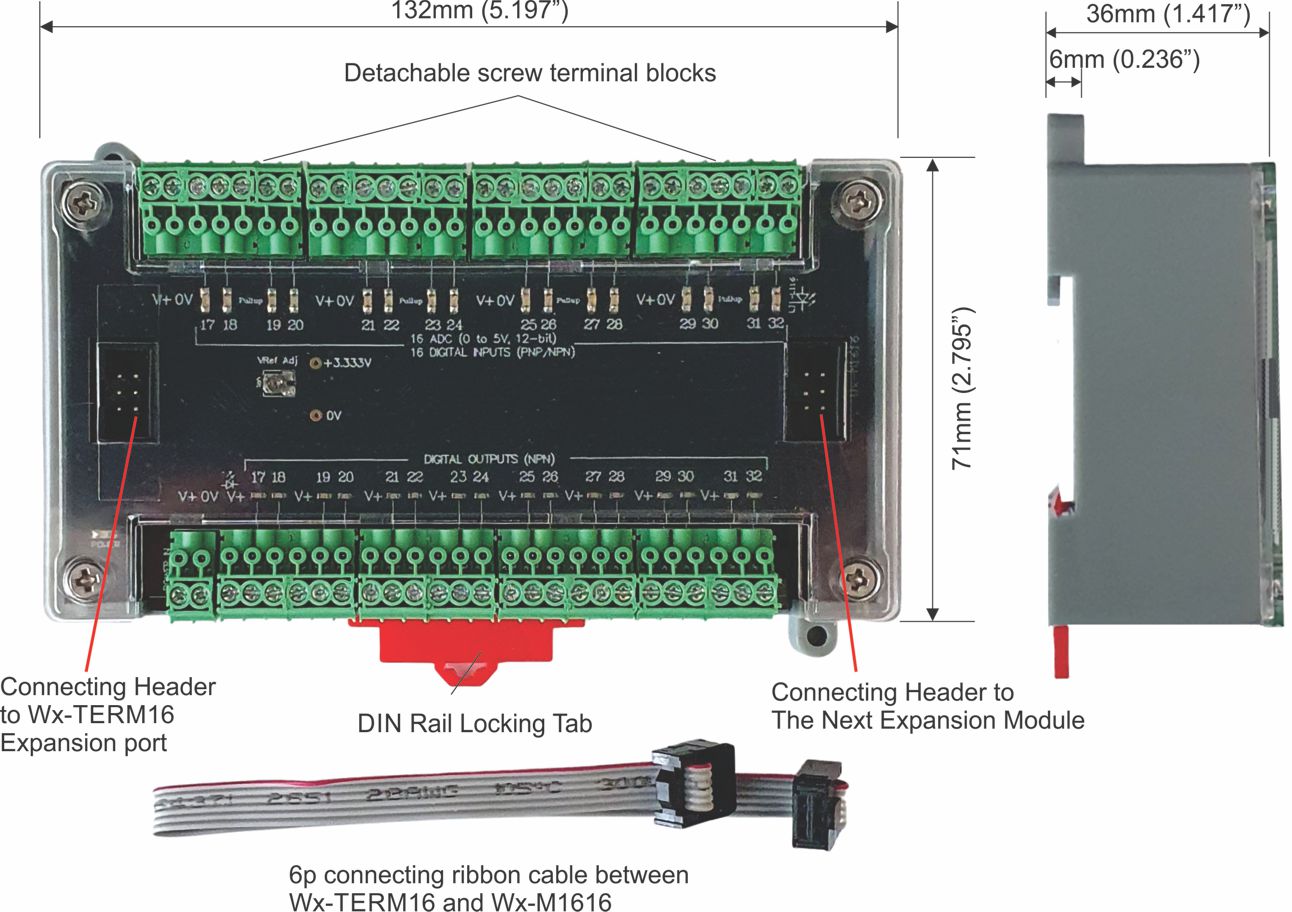 Figure 1
A Wx-M1616 is a DIN-rail mountable expansion module that adds additional digital inputs, analog inputs and digital outputs to a Wx100 PLC system.
Wx-M1616 is meant to be connected to the 6p expansion headers located at the right-end of the Wx-TERM16 terminal module using the 6p connecting ribbon cable included with your new Wx-M1616 . Wx-M1616 deploys detachable screw terminals to enable quick field wiring.  The following are the I/O specifications:
| | | |
| --- | --- | --- |
| I/O Types: | Qty | Specifications |
| Digital Inputs: | 16 | 12 to 24VDC, PNP or NPN |
| Analog Inputs: | 16 (shared terminal with D.I.) | 0V to 5V, 12-bit resolution |
| Digtal outputs: | 16 | 12 to 24VDC, NPN. 2A continuous |
a) Configuring Digital/Analog Inputs
Any or all of the 16 digital input terminals of a Wx-M1616 may also be used as 0-5V analog inputs, enabling highly flexible I/O configuration. To use an input terminal as an analog input you simply wire a 0-5V analog signal to it and the i-TRiLOGI TBASIC custom function simply call the function ADC(n) where n is the input number.  The firmware will automatically configure these inputs to become analog inputs. For example, if you want to use input 17,18,19,20 as analog input then simply call the function ADC(17) to ADC(20) and the firmware will configure these 4 inputs as analog inputs.
b) Cascading Wx-M1616 Modules
As shown in Figure 1, the Wx-M1616 module also has an expansion header to the right of the module which allows it to be cascaded to  another Wx-M1616. In fact, up to 4 pieces of Wx-M1616 can be cascaded in a chain. Note: Each Wx-M1616 must be configured for a different address using DIP switches as explained in the Section 8 in this manual.
Hence Wx-M1616 may add up to a maximum of 16 x 4 = 64 digital/analog inputs and 16 x 4 = 64 digital outputs to the I/Os on the Wx100+Wx-TERM16.
c) Protective Transparent Sticker On Top Cover
After you have completed wiring to the Wx-M1616, you may like to peel off the transparent protective sticker over the transparent top cover for better visibility of the printed text on the Wx-M1616 PCB.
---